Kauswagan caravan in northern Samar brings government services to remote villages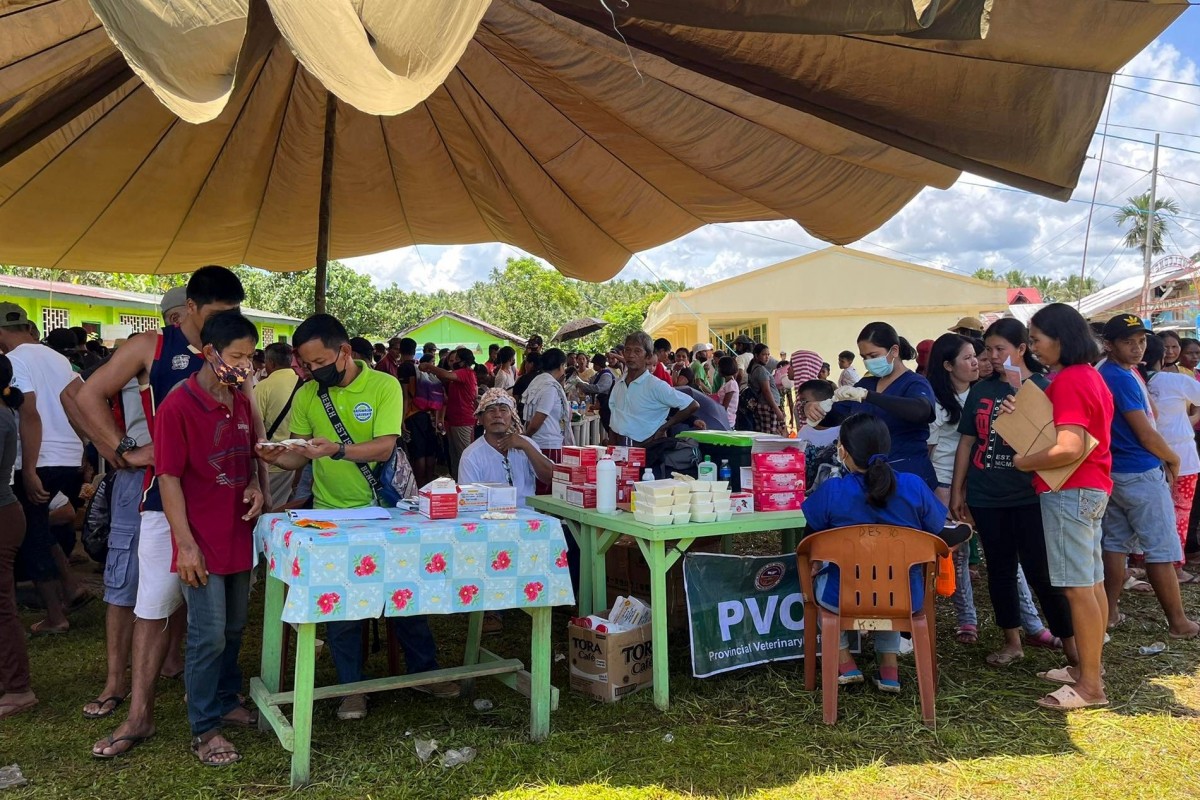 The 11th Kauswagan Caravan of the Northern Samar Provincial Government brought government services to Brgy. Dapdap, Las Navas, grouped with barangays Tagab-iran, Tagan-ayan, Sag-od, Palanas, Rufino, Del Pilar, San Jose, San Isidro and Epaw on July 15.
Some 2,168 families from these 10 Las Navas villages have benefited from the Kauswagan Caravan aimed at bringing basic needs to the destitute in remote areas.
The caravan served as a one-stop-shop of services for Nortehanons, especially those living in remote areas, to avail of various provincial government services as well as national government agencies, non-governmental organizations and other partners.
Services provided include distribution of leaflets and orientation on abaca production by PHILFIDA, as well as training on how to grow abaca planting material upon request from interested barangays, and distribution by the BFAR of tilapia fingerlings and the supply of fishing equipment.
The Ministry of Education and the Ministry of Social Welfare and Development organized an information campaign on their services and programs.
The Provincial Bureau of Social Welfare and Development, the lead agency of the Kauswagan Caravan, distributed family food parcels, provided 150 pairs of slippers, processing cash assistance to qualified individuals/families, distribution of leaflets on ECLIP and LSIP, information campaign on programs for children, young people, women, families, the elderly and people with disabilities.
The Philippine Statistical Authority (PSA) conducted mobile registration for the Philippines National Identification System and conducted pre-registration of births and marriages.
More Services
The University of the Eastern Philippines provided 1,000 assorted hardwood seedlings, 2,000 organic facial masses, 500 pairs of slippers, 500 healthy breads for children, organized a scholarship program orientation, as well as the orientation and distribution of leaflets on agriculture.
The Northern Samar Provincial Police Office provided security and order during the event, distributed crime prevention flyers and shared 100 family food parcels.
The Armed Forces of the Philippines performed a free haircut and provided security for participating agencies while the Bureau of Fire and Protection conducted a fire safety campaign and distributed leaflets.
The Department of Health conducted free medical examinations while the Provincial Health Bureau provided free dental services. The Las Navas Rural Health Unit assisted the DOH and PHO with free dental services and circumcision as well as COVID-19 vaccinations.
The Department of Trade and Industry conducted an information campaign on its programs and services, particularly on entrepreneurship, basic and premium products and the Price Control Act.
The provincial Bureau of Agriculture distributed an assortment of vegetable seeds and provided free gardening tools to farmers, while the provincial Bureau of Environment and Natural Resources provided gardening tools.
The Provincial Veterinary Office distributed animal dewormers, vitamins and other veterinary supplies, as well as chickens, green poly netting and animal feed.
Free legal consultations and services were provided by the Provincial Legal Office while the Provincial Planning and Development Office distributed IEC materials, particularly on children's rights and protection.
News, awareness campaigns, more legal, health services
Information campaigns on responsible parenthood, the distribution of contraceptives and the screening of Iskolar ng Bayan have been carried out by the Provincial Population Bureau.
The Provincial Cooperative and Community Affairs Office shared information about its program and services and provided technical assistance to grassroots organizing in the said barangays.
The Department of Agrarian Reform provides agrarian legal services and free legal advice.
The Philippine Charity Sweepstakes Office provided dental and circumcision drugs, distributed drugs and multivitamins, and ran an information campaign about their programs and services, while the Philippine Red Cross also launched blood grouping free.
The Technical Education Skills and Development Authority has produced a skills map for women.
The Federation of Filipino-Chinese Chambers of Commerce and Industry Inc. distributed groceries to some poor families.
Northern Samar Public Employment Office (NSPESO) has set up a skills registration system, career coaching for grade 10 (for the mobilization of the orientation of the lower secondary of the Dapdap National Secondary School) and pre-employment orientation for Year 12 students.
The Philippine News Agency and the Provincial News Bureau were responsible for media coverage and the production of press releases.
The Philippine Health Insurance Corporation organized free membership and distributed flyers and brochures about its programs and services.
The Provincial Development Investment Promotion Office offered skills assessment and livelihood training to individuals and groups interested in micro, small and medium enterprises.
The Provincial Office for Disaster Risk Reduction and Management conducted an orientation session on disaster awareness for families and a focus on basic first aid as part of band aiding.
The Northern Samar Electric Cooperative also organized a pre-accession program for households that do not have electricity under their "kuryente mo pautang ng Norsamelco" program.
Gratitude, with request for river control
Meanwhile, the Mayor of Las Navas, Arlito Tan, and the captain of the host barangay expressed their appreciation and gratitude to the provincial government and the various national government agencies, for their services rendered and their unwavering support despite the difficulty of transportation by land and river route to reach the remote barangay.
Barangay Dapdap Chairman Jeroveb Gutaba in an interview with the Philippines News Agency said he wanted a river bank control to be constructed quickly to minimize flooding as the barangay is the basin catchment of Pinipisakan Falls during the rainy season.
He said 80% of households suffered from flooding as most of their houses were submerged in water, adding that "we need to evacuate them to higher ground, to school buildings, which is safer and much better." .
"I appeal to the national and provincial government to allocate funds for our evacuation center so that during rainy days we have a permanent place to accommodate evacuees," Gutaba said.
Brgy. Dapdap can be reached in 45 minutes by motorboat from the town proper and by motorbike once the access road is built.
A tree planting activity to raise community awareness of the importance of planting and saving trees, expressing concern for the environment and lessening the adverse effects of climate change was part of the caravan.
The Kauswagan Caravan aimed to empower poor, marginalized and disadvantaged individuals and families, especially those in geographically isolated and disadvantaged areas, through education and information. (MMP/TBC/PIA Northern Samar)