Local businesses and government agencies react to rising gas prices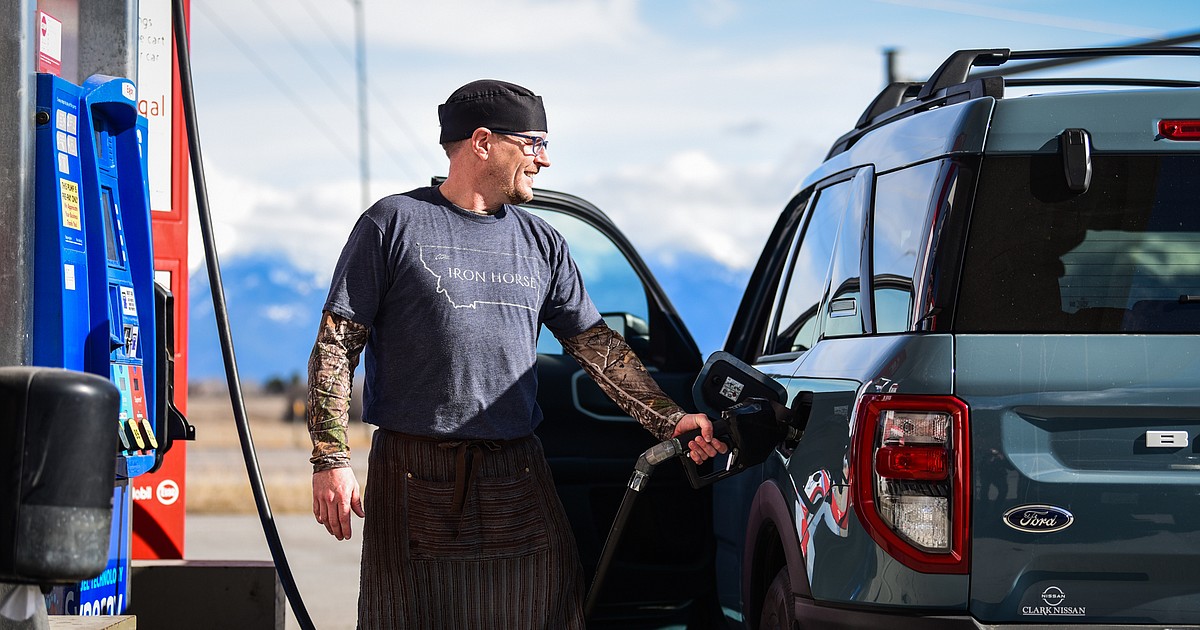 The recent surge in gas prices is fueling operational adjustments in the Flathead Valley business landscape.
Donny Stevens, who runs a trucking business in Columbia Falls, said his bi-weekly bill increased by $5,000 from statement to statement.
"It affects us tremendously," Stevens said.
Stevens' fleet travels as far as Ohio and Texas, averaging just 5 mpg.
Stevens said he has started stockpiling diesel as prices have risen in recent weeks, so he has enough reserve to keep his business going for several months.
"Hopefully the crisis will subside in the next few months," Stevens said. "…I have to operate my fleet."
Michael Taylor has a one-vehicle fleet, but he too is feeling the pinch of high fuel costs. Taylor runs The Uphill Grill food truck, which offers a variety of sandwich options.
Taylor said Flathead Valley residents should expect to see less of his mobile restaurant in the future. Fuel prices are one of the many factors that convinced Taylor to give up her food truck for a new brick-and-mortar restaurant in Helena.
Although Taylor still sells at occasional Flathead events, he didn't think his food truck could withstand rising fuel prices.
"Unfortunately, we still need gas to start," Taylor said.
Many business leaders have lamented the addition of surcharges to their services to offset the rising cost of fuel.
Bo Holst sells trees and other landscaping products at Rose Creek Nursery in Bigfork. He said adding a surcharge was unavoidable given the fuel consumption of his operation.
"I use a lot of fuel with the machines we use," explained Holst, who uses tractors and excavators throughout his farm.
Other than the surcharge, Holst had not planned to make any additional changes to its operation in response to soaring fuel prices. But he fears the extra cost will deter potential customers from using his services.
"It can change some people's minds," he noted.
Kevin Smith is also adding a premium for his taxi services at Glacier Grab-a-Cab, but he's confident he can keep his service more affordable than rivals like Uber and Lyft.
Glacier Grab-a-Cab currently consists of a single vehicle, although Smith hopes to expand this summer.
Smith said it has already attracted interest from customers looking to avoid paying the high premium at larger companies.
"Rising costs are quite difficult for taxis," Smith observed. He now charges an additional 10% surcharge for gasoline.
"It's always worth it," he said. "…People are going to pay for it. They need rides.
Customers also seem willing to pay extra for new homes, according to Wyatt Curtis of Flathead's Finest Construction.
"That drives up the total cost of the job," the homebuilder said. Curtis customers seem to universally accept these higher prices, he said.
"Everyone understands that it's not us," he added.
But he said it's been "exhausting" for the automaker trying to provide accurate pricing to customers. "We're going to do our best, anyway," Curtis said.
ONLY a few local businesses have reported being able to avoid paying a fuel surcharge at this time.
"We prefer to avoid [adding a surcharge]but there may come a time when we can't do that anymore," said Brian Clark, President and COO of Fun Beverage.
Fun Beverage's total fuel costs are up 51% from 2020 to 2021, and Clark said the company continues to see rising costs so far this year. In the past, however, Clark said Fun Beverage has managed to make logistical changes to offset fuel costs. Purchasing hybrid vehicles and restructuring routes and schedules have both helped Fun Beverage avoid passing fuel costs on to consumers.
A rise in drink prices also helped keep Clark from adding a fuel surcharge, but he admitted, "there's not much we can do."
Jared Tuck from Kalispell Kreamery shared a similar view. He said the dairy had so far managed to avoid raising prices, but he was not convinced it would stay that way in the long term.
"Fuel costs are inherent in everything manufacturing does," Tuck said. He said the dairy strives to be consistent, so it's important not to have a "knee-jerk" reaction to sudden changes like spikes in fuel prices.
Still, Tuck said, there may come a time when Kalispell Kreamery is forced to raise prices to meet its fuel demand. "We hope never to reach that point," he said.
Another industry that has avoided surcharges is the car rental market. Eric Martin of Avis said the business model is structured so that customers pay for petrol themselves and holidaymakers don't seem deterred from renting cars.
"We don't see any decrease in demand," Martin said. "Our demand is still high."
This is the case at all Avis properties in Montana, Martin added. The constant demand is likely tied to the socioeconomic status of tourists visiting places like Glacier Park International Airport, Martin theorized.
LOCAL GOVERNMENTS have not been spared the effects of rising fuel prices.
Whitefish Mayor John Muhlfeld said the public works department is working to conserve fuel through measures such as reduced idling and vehicle sharing.
The Town of Whitefish is also including a "fuel price adjustment" in the projects it currently submits, so the town will be able to pay actual fuel prices instead of estimates. The "Fuel Price Adjustment" applies to the Whitefish Avenue Spokane Watermain Replacement and Texas Avenue Reconstruction Project.
In Columbia Falls, meanwhile, City Manager Susan Nicosia doesn't expect fuel prices to cause many immediate changes.
"We are not changing any operations at this time," she said, noting that the city is just 2 square miles.
Kalispell and Flathead County leaders said they are waiting to see how gasoline and diesel prices factor into government operations.
"We'll just modify as needed," Kalispell City Manager Doug Russell said.
"I can tell you that we are monitoring and responding to changes as they occur," Flathead County Commissioner Randy Brodehl said in an email.
"We're budgeting quite carefully and working with the county's finance department to change our current budget," Flathead County Transit Manager Dale Novak said, noting that the Mountain Climber public transit system buys its gasoline from reduced price in the county.
"We have reservations that we can get out of, but we are very concerned about how the prices might affect us," Novak told Inter Lake.
The impacts of rising fuel prices are most likely to be felt as municipalities set their annual budgets this summer.
There's no indication pump prices would fall then, according to Patrick Barkey, a forecaster with the University of Montana's Bureau of Business and Economic Research.
"There is no natural ceiling for gas prices," Barkey pointed out. "They can go pretty high. We have to be prepared for this.
"It's going to take some time to settle in," he added.